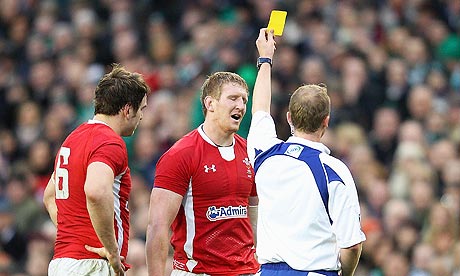 Cody Kuxmann is a Referee at the London Society Of Rugby Football Union Referees, while studying International Relations at Richmond, The American International University in London. He lives in Richmond Upon Thames but hails from Green Bay, Wisconsin.
LONDON, ENGLAND – With the Six Nations looming, let's look at how the teams have been getting on and where they will be going in the near future.
IRELAND: They've played their one game, in which they were doing amazingly well… until they lost. They still have four games left Italy, France, Scotland and England.  Italy, shouldn't be a problem; they are coming off of a two-week break after having the France game cancelled.  Then they will move on to France, who have seen only Italy so far. This game will be fairly close and will be one of the biggest games of the tournament with Ireland just squeaking by… As for their battle with a Scotland team that have played well so far? They should handle them; Another win for Ireland. Finally, England will come loaded for bear – it should be a good game. But with the way the English are playing it shouldn't be too much of a challenge.  Overall Record: 4-1
FRANCE: Like Ireland, Old Man Winter has limited them to but one game with Scotland, Ireland, England and Wales left to play.  Scotland should be easy to beat with how they played against Italy.  With the Ireland game it can go either way, but they both will be coming off two of the easier games they'll play this season, I see Ireland pulling an upset.  They will then play England who hasn't been in form at all during the tournament, I see France taking it.  They finish with Wales, this will be the game that decides the tournament, with Wales playing at home and for the Championship I see them taking it.   Overall Record 3-2
ENGLAND: Wow! Their form has been horrific. They played very poorly in their last two games against arguably the easiest teams in the competition. The schedule only gets tougher: Wales, France and then Ireland – perhaps the toughest of any of the teams to close out the season. If they don't bring up their form, they win none of these and even if they do pull one out, I don't see them winning the tournament.  Overall Record: 2-3
WALES: They have had a few lucky breaks and both teams they have played have arguably lost after they got carded. They finish the season with England, Italy then France.  Italy should be an easy win. Overall Record: 5-0
SCOTLAND: They had some good play throughout the tournament but haven't been able to capitalize.  They have France, Ireland than Italy.  So the Italy game I don't think that Scotland will be able to have anything to hold their heads up about this season, they will be

going into the Italy game after getting beaten by decent margins by two of the top teams.  I see Italy taking it. Overall Record: 0-5

ITALY: It is amazing how far the Italians have come in there Six Nation history. They beat France last year, and this year will most likely also come out with a win against Scotland. Overall Record: 1-4
So, those are my thoughts… What are yours? And tune in next week when the referees will once again go under the microscope.