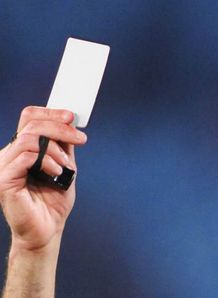 Cody Kuxmann is a Referee at the London Society Of Rugby Football Union Referees, while studying International Relations at Richmond, The American International University in London. He lives in Richmond Upon Thames but hails from Green Bay, Wisconsin.
If you've been watching Super Rugby you may have seen this mysterious new White Card.  The White Card is meant to be a way for a referee to say that an incident needs to be looked at again by the citing commissioner. Seen by some as a cop out, is it a good or bad idea?
In a recent Cheetahs vs Highlanders, game the White Card was used.  Take a look…
By the looks of it there is no way that that should have just been a Yellow Card.  Both ARs have recommended Red, but the referee decides to go with Yellow and a White Card.  I don't see any justification for going with a Yellow Card.
What's your opinion Good idea or cop out?