WEST GHANA/USA – It was another full weekend in rugby with the final Super 15s standings, the EP Kings, Nick Evans news and Thailand and Zimbabwe climbing the global rugby ladder… Here's a condensed Rugby Wrap Up:
Super 15 Season Standings: The end of the long S15 regular season has finally come. The playoff teams by seed are 1) Stormers 2) Chiefs 3) Queensland Reds (the winners of the South Africa, New Zealand and Australia conference Respectively) 4) Crusaders 5) Bulls 6) Sharks (the wild card winners based overall standings). This year that means it is South Africa with 3 teams in the playoffs, with New Zealand with 2 and Austrailia with 1. Schedules, a look at how poor our predictions were and new predictions coming later in the week.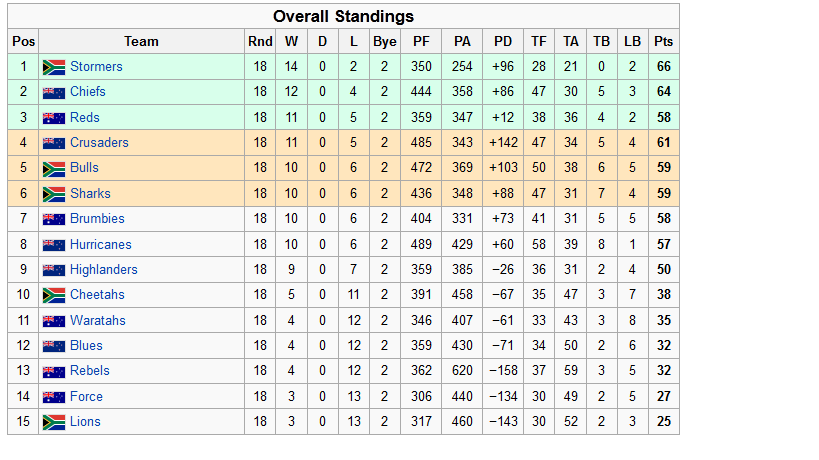 EP Kings – The EP Kings are the most divisive club in South African Rugby. Created to capitalize on the Eastern Cape's growth and Port Elizabeth as a major city in South Africa, the SARFU saw a Super 15s void and put them there. Problem is, they felt they needed the team to have a high amount of black, mixed race and/or non-white players to match the local demographics. They pushed for S15 rugby at the expense of a current S15 team (e.g. the Lions). This kind of rugby move – one driven by business and marketing –  is normal in Australia (look at Melbourne and Perth getting S15 teams), but not in South Africa where there is much more reverence for tradition and history. Now there is a rumor that instead of replacing the Lions, they have taken a 40 million Rand (South Africa Currency) payoff to hold-off a year and enter S15 in 2014. The SARU and the EP Kings are denying it. Get your popcorn ready… this drama is not done yet. We will keep you informed.
Thailand: They can still dream of a RWC 2015 place. They beat India to be Asian D1 Champs and compete in the two-tier Asian 5 Nations RWC qualification process, which begins next year. In laymen's terms, Thailand just qualified for the second tier. So, while they still have a long way to go to make England 2015, they just won the right to compete for a place in 2015.
Zimbabwe: Zimbabwe are now the official Champions of African Rugby. They beat a combative Uganda side 22-18 to take the title in the CAR Championship in Morocco. We know we talked about Madagascar last week, but to simplify things Madagascar won Africa 1C (3rd tier) and now move up to 1B(2nd tier). Zimbabwe won 1A (1st tier) and therefore are considered the best team in all of Africa. The Zimbos have made the RWC only once before and have been hindered by political unrest, but this appears to be a new dawn for them.
Nick Evans – This weekend Nick Evans shocked most Rugby fans and said winning the English Aviva Premiership with Harlequins validated his decision to leave New Zealand and forgo the RWC'11. Sounds crazy at first, but in 2007 he was on the bench and no one could predict 2011 and the need for a 4th choice fly half (sorry Stephen Donald). Not that knowing what would unfold would have kept Evans with the All Blacks… He decided to sign for some big money and a chance to be a star in England. At 'Quins he was the key man, the play-maker, goal-kicker and first name down on the team sheet. He choose to drive the bus rather than be a passenger and you can't begrudge him for that.
That is it for me for now. You can find me on the Facebook Rugby Wrap Up Page or on Twitter @JunoirBlaber and @RugbyWrapUp, respectively. And as always, stay low and keep pumping those legs.