West Ghana/USA – Another weekend is upon us and it's chock full of rugby news. Here's a quick look at the Super 15 Rugby Playoffs (regular season review and playoff preview), Varsity College Cup and the HS All-Americans…
The Super 15 rugby regular season is over and mercifully for all, I have put away my crystal ball after it proved to be seriously cracked. Lets look back at what I called and how wrong I was:
New Zealand Conference:
1) Chiefs – Dave Rennie and Wayne Smith have got them playing really well. If the TMOs had HDTVs instead of small CCTV, maybe they would have two more wins and first place overall.
2) Crusaders – Todd Blackadder got his boys through a mid-season malaise to win the last two (with TMO bad calls) to make the playoffs.
3) Hurricanes – Mark Hammett can coach – a young, impressionable, coach-able team. Not one of superstars or established veterans.
4) Highlanders – They started strong but lost loads of momentum towards the end. Hopefully, a top-level and healthy fly-half for a whole season will help steady the ship next year.
5) Blues – One of the most injury plagued seasons in S15 history. Discovered some new talent and with our boy John Kirwan as coach next season, lots of hope abounds.
Australia Conference:
1) Queensland Reds – Unable to play the 1st choice team all season due to injuries but in a weak conference, they won the games they had to.
2) ACT Brumbies – Jake White = great coach. That's based on the old formula of getting above average wins from below average talent.
3) NSW Waratahs – Micheal Foley = poor coach. That's based on the old formula of getting well below average wins (worst in franchise history) from above average talent.
4) Melbourne Rebels – As has been pointed out before, not enough quality forwards and not enough depth in Aussie Rugby Union, despite the talent that was in the backline.
5) Western Force – Poor coaching leading to a player revolt never helps things. It was a sign of how bad things were going.
South Africa Conference:
1) Stormers –
After years of being maligned for their lack of quality forwards, it is sweet justice that their depth and grunt in the forwards was key in them finishing first overall.
2) Bulls – Not always the most electrifying rugby considering their number of Springboks, but great defense, timely counterattacking, solid set piece and dead-eye goal kicking will always are great platforms to success.
3) Sharks – Hard hit by injuries and will be missing some for the playoffs but they fought down to the wire to qualify.
4) Cheetahs – Merge with Lions (The S15 Cats Redux) and make room for the EP Kings for the sake of S15 and Saffa Rugby.
5) Lions – See above. Swap Lions for Cheetahs.
The final ladder for the whole competition: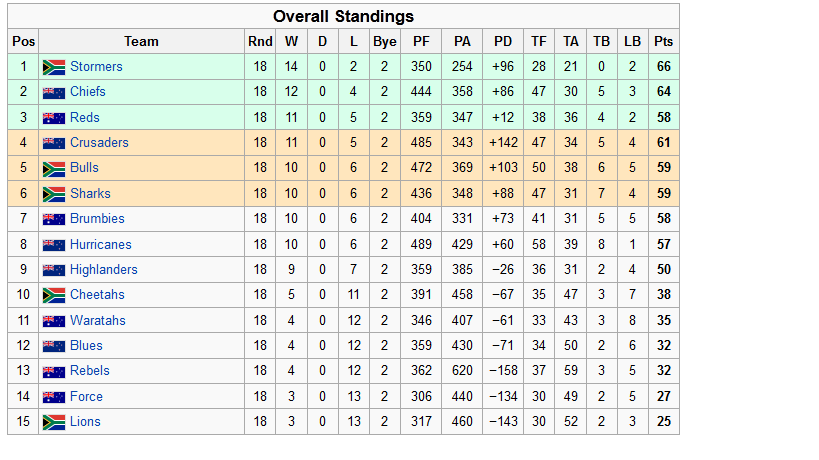 The Playoff schedule is as follows:
Qualifiers
21 July 2012 Crusaders v Bulls AMI Stadium (Addington), Christchurch
– I don't see the Bulls being able to make the long flight over and pull off the road victory.
21 July 2012 Reds v Sharks Suncorp Stadium, Brisbane
– The Sharks will be missing more 3 match winners from their line-up. The Red
Semi-Finals
27 July 2012 Chiefs v Higher ranked qualifier winner
( Reds, Crusaders or Bulls) Waikato Stadium, Hamilton
– If my Qualifiers predictions are right it will be the Reds, who do not have the fire power to match the Chiefs
28 July 2012 Stormers v Lower ranked qualifier winner
( Crusaders, Bulls or Sharks) Newlands Stadium, Cape Town
– If right again, they will face the Crusaders and with a week of rest and a home match plus the long Journey to SA, I believe the Stormers will be too much upfront.
Final
4 August 2012 Higher ranked semi-final winner v Lower ranked semi-final winner
– I will wait til we are closer to the date to make a final prediction.
Varsity College Cup:
It appears the cream of USA College Rugby Programs have decided to go beyond the College Premier Division and create their own Championship it will be called the Varsity Cup. The member programs will have played in 32 of the 33 College National Championships that have ever been held. The programs are Brigham Young University (Provo, UT); the University of California (Berkeley, CA); the University of Utah (Salt Lake City, UT); the United States Air Force Academy (Colorado Springs, CO); Dartmouth College (Hanover, NH); the United States Naval Academy (Annapolis, MD); and the University of Notre Dame (South Bend, IN). Notre Dame is the only College with no rugby pedigree but big name and big Alumni opens doors the world over. More to come on this story as the details come out.
HS All-Americans:
The HS All-Americans beat the Chilean U-19s team 43-17 in their second match against them. They are now 2-0 on their South American Tour. As a side note, counting the Junior All-Americans JWT success and warm-up matches, The USA Youth teams are 8-0 this summer. Thanks to all youth rugby coaches, you hard work is showing.
That is it for me for now. You can find us on our Facebook Rugby Wrap Up Page or on Twitter @JunoirBlaber and @RugbyWrapUp, respectively. And as always, stay low and keep pumping those legs.