RWU Friend Ray's Rugby is back to finish discussing the Class of 2014.
VANCOUVER, BC – A couple/three days ago we offered up our 2014 Canada Rugby Players To Watch and promised we would be back with  we'd  give you the  2014 Canadian Clubs, Coaches & Administrator To Watch. We follow through with our promise like we teach kids to follow through  with their tackles, here is the Class of  2014 Canadian Clubs, Coaches & Administrator.
CLUB:

Vancouver Island Thunder: Our Club of the Year has a very unique concept and program. The Thunder are a program aimed at introducing Aboriginal youth on Vancouver Island to rugby. Canada uses the term Aboriginal for people of First Nation's heritage (Native Americans to our USA neighbors). According to their webpage:
"Rugby is truly an international sport, popular throughout the world with Indigenous populations. Traditionally, it hasn't been a sport of focus for Aboriginal populations throughout Canada.  For example, it is not one of the 7 sports identified by BC Aboriginal Sports and Recreation.  However, we feel its international flavor, its Olympic inclusion and by its nature, an exciting and physical game that empathizes teamwork, make it an ideal sport for our Aboriginal athletes and communities."
They state their goals as:
-To promote the game of rugby to Aboriginal communities
-To identify potential high performance Aboriginal athletes that could one day represent Canada, potentially at the Summer Olympics
The Thunder have even lined up Canadian 7s star, Phil Mack, of Toquaht Nation, as their Boys' Coach. We wish them nothing but the best of luck.
COACH:

Mike Shelley:  Is our Coach of the Year. In a weird twist of fate for Shelley, Tim Murdy was supposed to replace him last year as the National U-20 coach but the timing didn't work out and he had to withdraw. This meant Shelley earned a reprieve and he seized the opportunity with both hands, taking 2nd place in the JWRT (Junior Rugby World Trophy) tournament – a second-tier version of the Junior Rugby World Cup. However, there are those that don't rate him highly as a coach or selector. It's unclear whether he'll be retained this year, though all signs point to it. If he is, then he has to produce something or pack his bags.
UNION:

Prairie Wolf Pack: Is our Union of the Year. The Canadian provinces of Alberta, Saskatchewan and Manitoba are commonly referred to as the Prairie provinces because there almost entirely flatlands. Its cities are Lethbridge, Calgary, Edmonton, Regina, Saskatoon and Winnipeg. However, because of the region's large size and sparse population outside of the cities, there is only one team to represent all the provinces. This team is the Prairie Wolf Pack. The Pack is an interesting side as they have produced Canadian internationals – like the aforementioned Jeff Hassler – and 7s stud Nanyak Dala. Yet, they have struggled in their attempts to win the CRC (Canadian Rugby Championship) and in fact took a step back in 2013 from 2012. Will this just be a slight bump or is the side in decline? How the Pack and its players perform in 2014 will be interesting to see.
ADMINISTRATOR: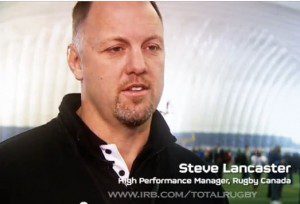 Steve Lancaster: Is our Admin of the Year. The former Canterbury Crusaders lock has just joined the Rugby Canada national management team and been named the High Performance Manager. Lancaster is not just looking to improve on players currently in the system, he is looking outside the system and been scouting pro football players, rowers and other crossover athletes. It'll be interesting to see what he can bring to the table this year.
Feel free to comment below, look for and "Like" our Facebook Rugby Wrap Up Page. Follow RaysRugby on Twitter as well as the entire RWU crew @: RugbyWrapUp, Junoir Blaber, DJ Eberle, Nick Hall, James Harrington, Cody Kuxmann, Jaime Loyd and Declan Yeats, respectively.