CASTRES, FRANCE – This week's Top 14 preview kicks off with a public health warning.
If you're still recovering from last weekend's heart-stopping climax to the Six Nations in Paris, do not – whatever else you do – pay any attention to French rugby's top flight.
Do something – anything – else instead.
Juggle chainsaws while balancing on a highwire over a rumbling volcano, if you have to. Plan an evening of Battlefield Earth followed by The Last Airbender. Eat a 40,000-calories-a-slice burger-pizza. Almost anything will be less harmful to your health than this weekend's Top 14 full-fat, high-salt diet.
There's no gentle aperitif on Friday, while you peruse the weekend's menu, either. It's straight in with the super-sized Big Mac and Fries that is Clermont v Toulon at Stade Marcel Michelin. Or, to put it another way – it's second versus first, separated by points difference only.
At any time of any season, this would be a big game. But, at this time, in the tightest Top 14 for years, after the two-week Six Nations break, and ahead of the Heineken Cup quarter-finals, this is Godzilla Meets King Kong.
Could this be the match that finally brings Clermont's proud winning streak at home to an end? Recent history suggests not. The Jaunards have won 12 of the last 20 meetings between the two sides. There's no reason to think they won't win this one to move clear at the top of the table.
A tasty Top 14 classic gets a 21st-century twist when fourth-placed Stade Francais face fifth-placed Toulouse at Stade Jean Bouin. The Parisians have a perfect home record this season, while Guy Noves' team have suffered with terrible travel sickness. Or, at least, they did until they beat Biarritz on the road just before the international break. But one win in 10 away from home is not a record to take to Paris. One win in 11 is what they're likely to head south with.
There's a touch of spice to Bayonne's match against Bordeaux, too. This is a match the Basque country's other side cannot afford to lose, if they are to stay safely out of the relegation zone. They're just four points ahead of Oyonnax, who are currently 13th, and the side from the plastics city have a game in hand. Bordeaux, however, have a shot at the play-offs, and know all points are crucial. They need wins – at home and away. Starting now.
A third defeat at home would have Bayonne looking nervously over their shoulder – especially as Oyonnax are at home, where they have won all but one of their Top 14 games. Christophe Urios's feisty side picked up a much-needed first win of the season on the road at Biarritz when all the other teams were enjoying the international break. At a time of the season where every point counts, Oyonnax needed that win. They need this one, too.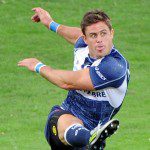 Revenge may be a dish best served cold – but there'll be a hot reception for Brive at the home of the Top 14 champions, Castres. The hosts were embarrassed 34-0 at Stade Amédée Domenech in October and will want to prove that score was a fluke. But Brive – despite not winning on the road this season – still harbour play-off hopes. This weekend's results will determine whether those hopes are serious or not.
There's a Southern fried flavour to Perpignan v Biarritz. The Catalan side are hovering dangerously close to the relegation zone. Defeat, with results elsewhere going against them, would mean that they will drop into the bottom two with time fast running out. But, defeat at home to Biarritz – who are as good as down already – is surely unthinkable.
There's no Michelin-starred end to the Top 14 weekend ends. Instead it's the fast-food, slick-ass Persian Bazaar that is Grenoble v Racing Metro. With the play-offs looming, it's an understatement to call this game crucial for both sides. But the hosts fear no one these days. This is a home win, even though Racing are currently ahead in the league.
Comments? Thoughts? Questions? Let us know. Please also look for and "Like" our Facebook Rugby Wrap Up Page and follow us on Twitter @: RugbyWrapUp, Junoir Blaber, DJ Eberle, Nick Hall, James Harrington, Cody Kuxmann Declan Yeats and Karen Ritter respectively.