DUBAI, UAE – The RWU World Rugby HSBC 7s in Dubai  coverage continues. There will be no rest for the weary because this is the only 7s tournament that has both men and women. Thus the two separate previews. Since we covered the women in a separate preview, this will be about the fellas. We will look at Eagle 7s program and finally try our luck at predicting the tournament standings – including the winner.
We've referred to USA 7s Head Coach Mike Friday as "Half-day" Friday because his primary job is Director of Rugby for the London Scottish; a team that plays one division down from the top league in England's Aviva Premiership. Friday was able to select the perfect assistant to run things in the USA, though, in Chris Brown, and so far his relationship is going well with National 7s director, Alex Magelby. The USA men won the bowl in Australia, which arguably isn't big news, as they have won hardware before in previous years. However, this bowl finish was their first tournament under Friday and historically they haven't won a shield until a few stops into the series. That bodes well. Let's look at the 3 key issues going into Dubai:
Team changes (+/-): There will be two new faces in the squad – University of Montana's Martin Iosefo and Central Washington University's Aladdin Schirmer – at the expense of the very experienced Nick Edwards and the previously recalled Peter Tiberio. For a veteran like Nick Edwards to only make the non-traveling reserves sends a very stern message about how you perform at the camps and in tournaments. It runs contrary to what we have seen from some other coaches. We will see if it helps keep the team sharp and and focused. Full credit to those two young men for making the most out of their chances.
Right Mentality: The concept that they are good enough and can win needs to sink in. Does this team have enough belief in each other and the system to actually make the cup playoffs? It remains to be seen because they are in an awfully tough group.
Win the first match: Wins and experience can only help with young teams. One thing the will improve the individual belief in each other is winning the first game. It is a must, as it will go a long way toward making things easier for them to proceed and possibly win the tournament. Okay, maybe not the tourney.
Optimist's View:  The Gold Coast 7s were just the tip of the iceberg and you can expect these boys to move on and win the plate.
Cynic's View: They could come crashing back to earth, as the first leg could have been a fluke. New Zealand didn't even make the Top 4 and we all know ho good they are, so the first round was just a fluke.
My View: Not sure about the plate but with the leadership and coaching structure in place it is difficult to believe that this team is making the right decisions and could take a massive step forward.
Going Forward: We see the USA team struggling and going 2-1 on Day 1. They will then go 1-2 on Day 2 winning their first match but losing the next two to finish at about 6th.
Dubai 7s:
The Top 4 teams so far are an anomaly because New Zealand is not there. That is like water not being wet. The Kiwis will bounce back and will re-assert themselves in this tournament. To what level they do so will be interesting to see, as the current leaders – Fiji, Samoa, England and South Africa – won't hand them the keys to the car. Tier 2 sides like Argentina will also look to bounce back, so the USA will be under pressure to duplicate their effort at Gold Coast.
Here are our pool previews:
Pool A:
Fiji
Argentina
France
Brazil
Fiji wins Pool A with ease. They will be followed by Argentina, who will have to fight off  France, and Olympic hosts Brazil will bring up the rear.
Pool B:
Samoa
New Zealand
Scotland
Japan

Gold Coast runners-up Samoa will come second to reigning Series champions New Zealand. From there, Scotland can make reservations for third place with Japan likely to be last.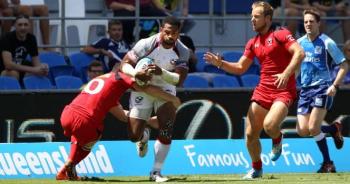 Pool C:
England
Australia
USA
Kenya
England should be first, based on their current standings, position and historical success. However, they can not afford an off game since the other 3 pool members – Australia, USA and Kenya – can win the pool if they bring their A games. The picks here are USA for 2nd, then Kenya and Australia. We say this with the conviction of a wet noodle.
Pool D:
Canada
South Africa
Wales
Portugal
The Blitzbokke of South Africa will take this group. Second place will be a fight between Gold Coast quarter finalists Wales and Shield winners Canada, with it currently looking like Wales are the favorite. To no one's surprise, 4th will be claimed by Portugal.
Final standings will be
Cup: England
Second: New Zealand
Third: Fiji
Plate: USA
Bowl:Kenya
Shield: Scotland
That's it for now. Feel free to comment below, look for and "Like" our Facebook Rugby Wrap Up Page and follow us on Twitter@: RugbyWrapUp,Junoir Blaber, DJ Eberle, Nick Hall, James Harrington, Cody Kuxmann, Jaime Loyd, Karen Ritter , Jamie Wall, Jake Frechette and Declan Yeats, respectively.
And as always, stay low and keep pumping those legs.