RWU Friend Ray's Rugby has graced us with his presence again.
Vancouver, BC – As a guest writer for Rugby Wrap Up, it was enjoyable helping name the Rugby Canada Class of 2014 . So much so that I am ready to help name the 2025 class.  However rules are rules at RWU and before we can look forward, we must look back. With that said, it gives me great pleasure to present our review of the 2014 Rugby Canada Players, Clubs, Coaches And Etc. To Watch:
Jacey Murphy: Jacey was our Women's Player of the Year. The University of Guelph graduate made the 26 women roster selected to play for Canada at the Women's Rugby World Cup. She made the match day squad in all 6 games. She came off the bench in the first match against Spain and then started in all the remaining games including the final against England. She is currently in possession of the starting blindside flanker position for Canada. To top off 2014, she is going to get married in 2015 to her college sweetheart.
Adam Zaruba: Young Adam was our Men's Domestic Player of the Year. Adam got his breakthrough with the Canada 7s side, first by playing well with the Maple Leafs development team and at last in the new season got his chance with the big boys, the full Canada 7s men's side. He began starting to crack the starting lineup on occasion, using his size (6'5? 125kgs – biggest man on the 7s circuit) to great effect on kickoffs and used as a power runner on the wing when not in the set piece. He seems to have focused his efforts on 7s, thereby not really able to play more 15s right now but 2014 was a very promising start to his young career.
Jeff Hassler: Jeff was our Men's International Player of the Year. A veteran wing for Team Canada, his season was an easy one to review. Hassler kicked butt all season with Ospreys, got named to the Pro 12 dream team, probably Canada's best player in the internationals and started the new domestic season well, before unfortunately tearing some knee ligaments late in the game against Romania. He will be out until the spring but should be fit and firing in plenty of time for the Pacific Nations Cup and the Rugby World Cup.
Jake Ilnicki: Jake was the Young Player of the Year. Jake had a mixed season, truth be told. He won 4 men's 15s caps, including his first start, though it was in the disappointing loss to the Eagles. He was actually pulled at the half. Ilnicki struggled a bit with the step up this year but managed to get a contract with NSW Country Eagles in Australia's National Rugby Championship and started 5 games for them, playing really well. He is back in Canada now and without a pro contract but he should have a good year and will almost certainly go to the RWC.
Pat Kay: Pat was the 7s Player of the Year and like Jake Ilnicki had a mixed year. He started for the British Columbia (BC) Bears in the Canadian Rugby Championship, played flyhalf and struggled a bit on a mediocre team yet got called up to the Americas Rugby Championship side. Unfortunately, he was selected out of position at fullback and looked badly rattled. The young Mr. Kay then switched gears and joined the 7s side and got called up for the Dubai and Port Elizabeth legs.  He didn't get a lot of time on the pitch but scored his first international try in South Africa. The young man still has big potential. He will be pulling double duty on 15s and 7s but in 15s  RWC is probably a year too soon. This means he will likely shoot for the Rio 2016 with the Men's 7s side.
CLUB:

Vancouver Island Thunder: Was our Club of the Year in 2014, played their first ever games at the Shawnigan 7s and the boys placed 4th out of 8 teams while the girls came 2nd. Both teams won their opening matches. Canadian 7s star, Phil Mack, of Toquaht Nation, is still their Boys' Coach continues to help out and two players, Kyle Joe and Brandon Schellenburg were selected to take part in the Canada U-17 West trials in February and both will go to Las Vegas with the BC u17 7s team.
COACH:

Mike Shelley: Was our Coach of the Year. Shelley was the National U-20 coach once again after Tim Murdy withdrew because of a schedule conflict. It was a disappointing season for Canada as despite reasonable prep time and a decent group of players they didn't play well and finished 7th in Hong Kong at the Junior World Rugby Tournament. Shelley was relieved of his duties as the U-20 coach but was the scrum coach for the Men's senior side in November and remains director of the national academy program, for now.
UNION:

Prairie Wolf Pack: Was our Union of the Year. The Canadian provinces of Alberta, Saskatchewan and Manitoba are referred to as the Prairie provinces and players from those provinces make up the side. The Wolfpack had a great year as the union seems to have smoothed out long standing internal politics and is fast gaining on both BC and Ontario. The Pack played cracking rugby all season in the CRC, winning 5 out of 6, including beating Ontario Blues at home in the final game but ultimately came up short on points differential and finished in 2nd place. That was as close as they came to nearly winning their first ever MacTier cup… maybe next year?
ADMINISTRATOR: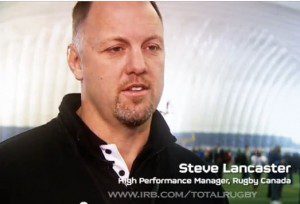 Steve Lancaster: Was our Admin of the Year. The former Canterbury Crusaders lock serves as the Rugby Canada the High Performance Manager. Lancaster has done his job quietly and behind the scenes. He has been running  talent identification camps which has just seen Dartmouth track star/winger John Abraham drafted into the men's 7s program. He has also hired a couple of new disciples for this coming year in  Jeff Williams and Ken Goodland, who will oversee the u20 program and improve the talent identification model. He work will probably yield its rewards in the next few years so 2014 and even 2015 should not be held against him.
That's it for now… feel free to comment below, look for and "Like" our Facebook Rugby Wrap Up Page. Follow me, Raysrugby on Twitter as well as the entire RWU crew on Twitter@: RugbyWrapUp,Junoir Blaber, DJ Eberle, Nick Hall, James Harrington, Cody Kuxmann, Jaime Loyd, Karen Ritter , Jamie Wall, Jake Frechette and Declan Yeats, respectively.