The European Rugby Champions Cup is officially the weirdest and most exciting club rugby competition on the planet. Round 5 had everything a rugby fan could've hoped for including last minute game-winning tries, massive upsets, and heroic performances from teams already slated for competition exit after the conclusion of the pool stages. Relive and review an amazing weekend of European rugby and see how our Expert Panelists faired as RugbyWrapUp reviews Round 5 of the European Rugby Champions Cup…
[supsystic-tables id='12']
Blaber: 36–14, with the added pleasure of a correct Pick of the Week (PoW). After leading the Experts Picks Panel (EPP) going into Round 5, Mr. Blaber now shares first place with JWB after he was let down by underwhelming performances from Toulouse, Stade Francais, Clermont, and Bath. On a slightly happier note, though, he moves to 3–2 in his PoW after Leicester romped Treviso.
JWB: 36–14, with the added pleasure of a correct PoW. After conceding his lead in there EPP to Mr. Blaber following Round 4, JWB and now is poised for a Round 6 face off with Blaber himself. JWB incorrectly chose Toulouse, Exeter, and Clermont, but correctly chose Leicester to beat Treviso by five points or more.
Harrington: 35–15, with the disappointment of getting the PoW wrong. Mr. Herrington now find himself tied for third place in after a quality week of picks, has only losses coming in his choosing of Toulouse, Clermont, and Stade Francais. Unfortunately, Mr. Harrington takes his first PoW loss of the season after he incorrectly chose Toulouse to win.
Frechette: 35–15, with the added pleasure of a correct PoW. Mr. Frechette, along with Mr. Nelson, went 5–5 in his Round 5 picks, a result rather contradictory to his good picking form all season. He is only one game away from Mr. Blaber and JWB in first place, and is currently tied with Mr. Harrington for third place. As an added bonus, Mr. Frechette correctly chose Racing to win in his PoW.
Yeats: 33–17, with the added pleasure of a correct PoW. In an amazing turn of events, Mr. Yeats went 10-0 in his Round 5 picks, pulling him with in three games of Mr. Blaber and JWB and slingshotting him into fifth-place. He also pulled his PoW record to 3–2 by choosing Munster to win by two over Stade Francais.
Nelson: 32–18, with the added pleasure of a correct PoW. Mr Nelson went 5–5 in his Round 5 picks, A record that has all but relegated him from EPP title contention. On a happier note, though, he improved his PoW record to 4–1 after choosing Racing to win by four over Scarlets.
Bordeaux-Begles 34 vs 27 Exeter Chiefs
Stade Chaban-Delmas, Bordeaux
Saturday, January 16, 2016
After three thrilling matches against Clermont, the Ospreys, and now the Exeter Chiefs, Bordeaux's Stade Chaban-Delmas has become one of the most exciting venues in this European Rugby Champions Cup campaign.
Last Saturday, Bordeaux held off a late come back from the Chiefs in an 8-try thriller that saw all the home side grab a crucial bonus point victory to keep them in the running for a place in the knockout stages.
Despite an early penalty goal to the Chiefs, Bordeaux held possession for the majority of the opening 40 minutes, allowing Australian international centre Adam Ashley-Cooper and fly half Pierre Bernard to score tries in the 13th and 16th minutes, respectively. Even with successive tries, the score read only 10–3 after Bernard missed both conversions. The Chiefs responded with a try of their own through scrum-half Dave Lewis, only to be nullified by a try from the Bordeaux captain Louis Madaule.
No more than a minute passed before the Chiefs responded with a try from Byron McGuigan, and after fly half Will Hooley kicked over his second successful conversion of the night followed by an injury time penalty goal, the halftime score read 20–20.
The second half was no less crazy than the first, and Bordeaux put themselves ahead through replacement prop Benut Auzqui's try and replacement fly half Lionel Beauxis' conversion. The Chiefs immediately responded with a try from centre Max Bodilly, but Bordeaux eventually wrapped up again after replacement forward Marco Tauligne crossed over for Bordeaux's fifth and final try of the night.
Heading into next week's final round, 04 teams in Pool 2 have a chance of qualification.
Leinster 25 vs 11 Bath
RDS Arena, Dublin
Saturday, January 16, 2016
After four straight group stage losses for the first time in club history, Leinster finally gave a rousing performance to win their first match in this campaign's European Rugby Champions Cup.
To keep their European hopes alive, Bath had to come out of Dublin with a victory, if not a bonus point victory, but the high intensity of a new-look young Leinster team was too much for a battered and bruised Bath.
The first half saw all points kit from the boots of Ian Madigan and George Ford, the former kicking through four penalties and the latter a measly one from three attempts. The second half saw brilliant line breaks from Leinster centre Garry Ringrose and young Leinster forwards James Tracy and Ross Maloney to put the home side on the front foot. Bath's hopes of a comeback were ignited when 8-man Leroy Houston crossed over the white wash in the 59th minute, but Leinster responded strongly and forward Sean Cronin scored at the opposite end to put the game away for the home side.
Madigan put the icing on the cake with a 76th minute penalty, restoring pride to the flailing Irish province and crushing Bath's hopes of a berth in the knockout rounds.
Saracens 33 vs 17 Ulster
Allianz Park, London
Saturday, January 16, 2016
Despite getting off to an amazing start with a try and successful conversion from centre Luke Marshall and fly half Paddy Jackson, respectively, Ulster fell victim to an amazing Saracens display that eventually earned Sarries a bonus point victory and a home quarter-final.
Saracens fly half Owen Farrell slotted penalties before and after Marshall's try to make the game 7–6 in favour of the visitors after 20 minutes, but the home side went into the break ahead 13-7 thanks to 8-man Billy Vunipola's try off a driving line out maul.
The second half started in the same fashion as the first, with Ulster's Paddy Jackson kicking a penalty to cut the gap to 3 points. Farrell responded with a penalty of his own before the floodgates opened and Saracens brilliantly put over three tries in 10 minutes.
Clinical precision from the north Londoners was too much for the visitors, who, despite a late try from Ulster's Iain Humphreys, were relegated to defeat and now are longshots to make the knockout stages.
Ospreys 21 vs 13 ASM Clermont Auvergne
Liberty Stadium, Swansea
Friday, January 15, 2016
After the narrowest of losses to Clermont in Round 2, the Ospreys struck back with a vengeance last Friday as they went on to smash two time finalists Clermont and take first place in Pool 2.
The Ospreys kicking boots were in fantastic form throughout the night, with all 21 points coming from the boots of fly half Dan Biggar and replacement fly half Sam Davies. It was Clermont who started off the scoring, though, when fly half Camille Lopez made a lovely break into the Ospreys 22 and played centre Wesley Fofana a perfectly lofted ball to send him over the whitewash and put the visitors up 7–0 after a successful conversion.
Biggar and the Ospreys responded by kicking through two penalties to bring the game to a single point before Camille Lopez kicked two penalties of his own to make it 13–6 to the visitors going into the break.
The second-half began in concerning fashion for the Ospreys after Biggar limped off and was replaced by the young Welshman Sam Davies who, in the end, became the Ospreys hero. Davies settled his nerves with a successful penalty goal from 40 m out and subsequently proved his worth with a fantastic drop goal to once again bring the gap down to one point.
Clermont began visibly cracking under the pressure and eventually fell victim to ill-discipline, allowing Davies to kick the Welsh region into the lead. Two final Davies penalties ensured that Clermont left without a losing bonus point, leaving the Ospreys two points clear atop Pool 2.
Munster 26 vs 13 Stade Francais (SF)
Thomond Park, Limerick
Saturday, January 16, 2016
With little left to play for other than pride in this European Rugby Champions Cup, Munster came out at Thomond Park and put on a display of brilliance and clinical precision to attain a massive pride-boosting bonus point victory over Stade Francais.
Only a week after being smashed by a 14-man SF side in Paris, the Irish province turned 180° and scored four brilliant tries, keeping the SF attack at bay while simultaneously ripping the SF defence to shreds.
The match did not start well for the home side, though, as they gave away a penalty within the first 10 seconds that SF fly half Morne Steyn easily converted to put the visitors ahead 3–0. The home side responded in the 18th minute with a powerful line out maul that pushed hooker Mike Sherry over the line for the first try of the match.
As the crowd's hope grew, so did the confidence of the Munstermen, and SF bent under the pressure of the Munster attack. The home side capitalised on gaps in the SF defence immediately before and after the break through tries from Keith Earls and Simon Zebo. The only hope for the French club came after a Munster lineout gone awry let flanker Jonathan Ross cross over for the score, but that was nullified four minutes later after Conner Murray put CJ Stander through on a tap-and-go penalty to wrap up the bonus point victory for the home side. Munster will look for another bonus point victory when they take on Treviso next week while Stade Francais take on Leicester to keep their Champions Cup hopes alive.
Oyonnax 32 vs 14 Toulouse
Stade Charles-Mathon, Rhone-Alps
Saturday, December 16, 2016
After weeks of both blowout and narrow losses, Oyonnax finally claimed their first ever victory in the European Rugby Champions Cup as they smashed four time champions Toulouse with a four-try bonus point victory on a snowy night in the French Alps.
One week after an amazing first half performance against Ulster, Oyonnax replicated their success and were in the lead after 26 seconds when winger Silvere Tian scored the match's first try. 10 minutes later the home side scored their second try after opposite winger Uwa Tuwalo picked up a grubber from fly half Nicky Robinson and touched it down.
Unlike last week's display against Ulster, Oyonnax's display of brilliance continued into the second half with tries from captain Fabian Cibray and centre Eamonn Sheridan in the 48 and 75th minutes, respectively.
Although Toulouse scored two tries through eight-man Gillian Galan, the visitors left the Alps with no points to show for, another miserable match in their dismal European campaign.
Leicester 47 vs 7 Benneton Treviso
Welford Road, Leicester
Saturday, January 16, 2016
Leicester, one of the European Rugby Champions Cup's top clubs at the moment, continued their reign of dominance with another bonus point victory over Italian side Treviso.
A first minute try for Leicester flanker Michael Fitzgerald meant bad news for the visitors, and, despite a moment of brilliance when winger Andrea Pratichetti scored Treviso's only points of the game, the Italians were put to the sword.
A penalty try followed by tries from Vereniki Goneva, Adam Thompson, Ben Youngs, Freddie Burns, and Laurence Pearce gave the Tigers an easy victory and for five points before an hour had gone on the clock.
Leicester going to next week's match against Stade Francais having already secured a home quarter-final.
Racing 92 vs Scarlets
Stade Yves-du-Manoir, Paris
Sunday, 17 January 2016
Back at home in Paris for the first time in two rounds, Racing 92 ran rampant over a hopeless Scarlets side.
The rout began from the boot of Dan Carter on an eight minute penalty goal followed by tries from Racing's Juan Imhoff (two tries), Casey Laulala (three tries), Antonie Claassen, Louis Dipichot, and Johannes Goosen (there was a penalty try in the 56th minute as well).
The Scarlets tried to respond through tries from Canadian international DTH van der Merwe and Welsh international Gareth Davies, but second-half yellow cards shown to van der Merwe and second rower Masalino Paulino relegated the visitors to heavy defeat.
Racing heading to next weekend's match against Glasgow knowing they've already secured a home quarter-final.
RC Toulon 15 vs 11 London Wasps
Stade Felix Mayol, Côte d'Azur
Sunday, January 17, 2016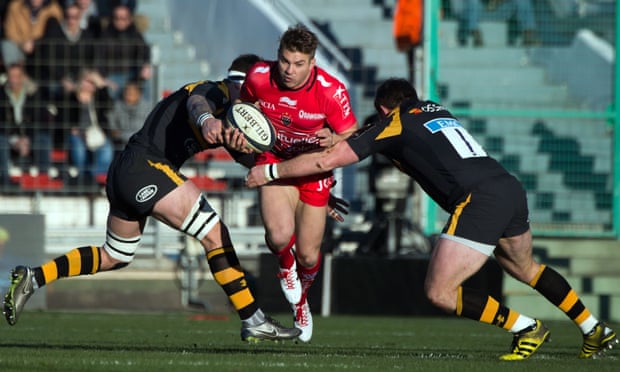 To become European champions a team must be exceedingly resilient in the face of pressure, and no team in the European Rugby Champions Cup has showed more of this resolve then three-time reigning champions Toulon.
In last weekend's make up fixtures, the champions were hard pressed by a Bath side looking to smash their way into the knockout stages, but still earned victory through sheer attacking brilliance. In Round 5's match up against Wasps, Toulon earned victory by taking advantage of the opportunities that presented themselves.
Toulon, the home side, put themselves ahead after 12 minutes when fly half Quade Cooper crossed the white wash after he shot a gap in the Wasps defence. Scrum-half Eric Esconde tacked on three points from a penalty goal 10 minutes later before Wasps got on the board through a penalty goal of the round kicked by fly half Jimmy Gopperth. The two teams proceeded into the break without scoring, the scoreline reading 8–3.
Wasps came out firing in the second half and, after waves of pressure on the Toulon defensive line, attained a penalty of which Gopperth easily kicked to bring the gap to 2 points. The Londoners kept the scoreboard ticking over and scored an outstanding try through eight-man Guy Thompson, giving them hope of a historic victory in France.
But the fairytale wasn't to be that day. The champions surged to new life and, with the clock in the red, scored a try in the far left corner through Australian international Drew Mitchell.
It was heartbreaking stuff for the Wasps, but no one can deny their outstanding resolve the champions showed in the face of losing at home.
It's now squeaky bum time for both Toulon and Wasps as only one point separates the two going into Round 6. Wasps will play host to Leinster while Toulon travel to Bath in what could be two ultimate European rugby Classics.