WESTWOOD, CA – Saturday's the ultimate rugby day, and what better way to get it started off than with two great fixtures capping off the midway point of the 2016 RBS 6 Nations. "Rugby's Greatest Championship" gets kicked off tomorrow by what will hopefully will be an enthralling, exciting affair between Italy and Scotland from the Stadio Olimpico, followed by the largely anticipated clash between long seated rivals Ireland and England. For those of you who haven't found out the results of the clash between Wales and France from earlier today, do not worry about spoilers, you're in safe hands. No matter what the occasion, this championship never fails to disappoint, so get prepared for Saturday's pivotal European action by reviewing out Expert Panel Picks and Saturday's fixture previews as RugbyWrapUp tackles the RBS 6 Nations Round 3, Part II (thank you midterms for the untimely disruption).
Expert Panel Picks Table:
[supsystic-tables id='25']
Panel Rundown: In the weekend's first fixture between Wales and France, Mr. Blaber and Mr. Yeats were the only ones to hold out from choosing the Welsh at home, instead deciding to take the young Frenchmen while the rest of the panel sided with Warren Gatland. The only unanimous decision that the panel decided on this week was to take the Scots over the Italians. Considering that the Italians have lost six on the bounce and are coming against a Scotland side that has looked increasingly good, Scotland definitely looks like the better choice. As for Saturday's final fixture, the board is split 4 to 2 between Irish supporters and those supporting England. Mr. Blaber, Mr. Nelson, Mr. Yeats, and Mr. WB have donned to the green, white, and gold while Mr Harrington and Mr Frechette have decided to don the red rose. With so much diversity amongst the pics this week, a shake up in the EPP standings could be an order come Saturday evening.
Italy vs. Scotland
Stadio Olimpico, Rome
Weather: Thunderstorms with a High of 18°C (65°F)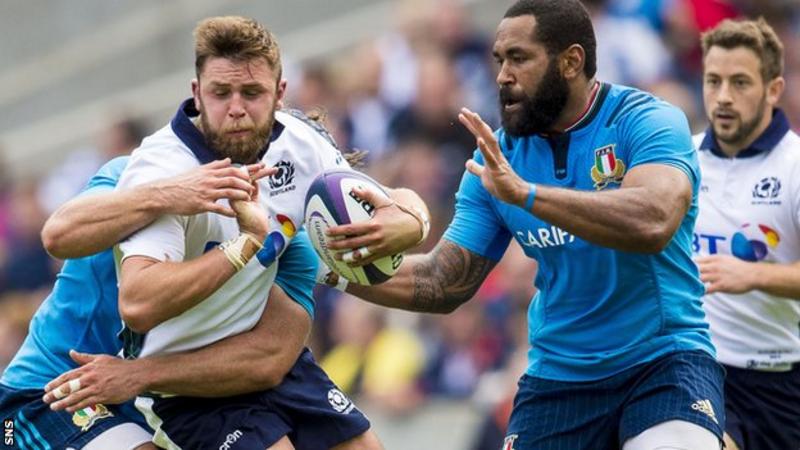 Ever sense Italy's inclusion into the 6 Nations back in 1999, Italy and Scotland have run for a combined 14 wooden spoons, A record that neither team are particularly proud of.
But, of late, both side's have started to find new life, Scotland feeding off their success at the Rugby World Cup to run close games against both England and Wales, and Italy benefiting from a plethora of experience to compete better all-around than they have in the last several years.
Once again, it seems like a familiar position for both teams as they enter into Saturday's fixture in Rome. Both teams have gone winless through the first two rounds of the tournament and both are desperately looking to stay away from last place and zero points.
Scotland head coach, Vern Cotter, still believes that success lies just around the corner for his squad, and has reassured the media all week that the Scott's will be 100% prepared for the Azzuri.
Just as he did in the build up to the match against Wales two weeks ago, Cotter has decided to go with only one change to his squad, putting Tim Visser on the wing and leaving the rest of his squad completely unchanged. Carter's side performed admirably against Wales two weeks ago and, had they cut down on handling errors, could have come away with a famous victory and two points. Their forward pack, led by the Gray Brothers, stood up to the Welsh test very well and should have a good challenge against the Italians.
For the Italians, head coach Jacques Brunel has had to make several changes to deal with some of his squad's star players exiting due to injury. Carlo Canna's absence will hit the Italians most as he has been their main playmaker over the last few weeks. Lock George Biagi is also out and will beep replaced by Joshua Furno, while fullback David Odiete will be replaced by Kelly Haimona.
Apart from being ripped apart by England, the Italians shoulder strength against the French during the first week, and will need the same performance to top the Scottish. It should be a very close game considering that the last four fixtures between these two sides have ended with a margin of four points or less.
Ireland vs. England
Twickenham Stadium, London
Weather: Partly Sunny with a high of 7.8°C (46°F)
If there is any one external force that drives teams on to victory in the RBS 6 Nations it is momentum. England have heaps of it entering into Saturday's home fixture after pushing aside Scotland and waltzing past Italy on their way to the top of the table.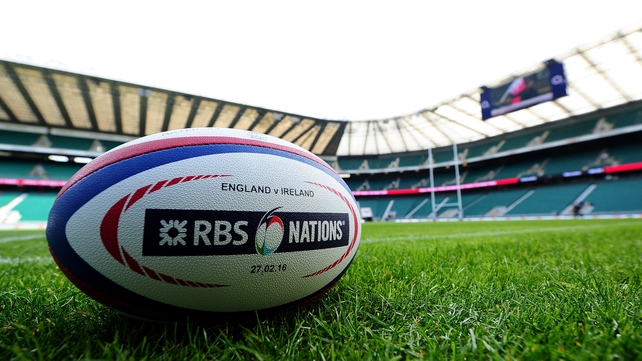 Head coach Eddie Jones seems extremely confident of his side's ability entering into the match, speaking to the media all week about how the "worldwide hatred for English rugby" gives his team the edge over anyone.
Ireland on the other hand are stuck in a momentum-less muck after nosediving against the French in Paris two weeks ago. With so much excitement floating around the idea of winning a historic third straight championship, The Irish have ground to a halt.
Head coach Joe Schmidt has made fascinating changes to his squad, injecting a combination of youth and experience into various areas of the pitch that seem a bit unexpected. Earls returns to the wing after his time of tenure in the centre, while Donnacha Ryan and Mike Ross return to the forward pack.most apprising Lee all the inclusions of Stuart McCluskey from Ulster into the centre and Josh van der Flier from Leinster into the flank spot left open by Sean O'Brien. Critical reaction thus far has been relatively positive, but McCluskey and Flier will have trial by fire as they get their first caps against that other team.
One of the key factors for the Irish will be whether or not Johnny Sexton can maintain the physical beatings he's been dealt over the last two years. Ever since returning from his four concussions after playing for Racing in France, he has been the target of big men who see Sexton as a vulnerability for the Irish. Unfortunately, it's true. Sexton, when on his game, as a mastermind on the field, and although Ian Madigan has performed valiantly in his place, the results just haven't been the same. If Sexton can stay healthy for the full game, then Ireland will certainly have a chance of pulling off the underdog victory.
England on the other hand only have two changes since they smashed Italy 40–9 two weeks ago. Saracens man Maro Itoje has found his way into the second row for his first start of his international career while Joe Mahler comes in for Mako Vunipola in the front row.
The English backline is an absolute force to reckon with, with ford, Farrell, Joseph, Watson, and Brown providing some of the most superb line skills in world rugby. Forget the forwards (not completely), but if the English backs get flying then Ireland will be in a world of trouble.
Five of the last six outings between these two have gone to the English, but in a rivalry that cuts as deep as this one anything can happen.
Feel free to comment below, look for and "Like" our Facebook Rugby Wrap Up Page and follow us on Twitter@: RugbyWrapUp, Junoir Blaber,James Harrington, Jamie Wall, Nick Hall, DJ Eberle, Jake Frechette, Scheenagh Harrington, Jamie Loyd, Cody Kuxmann, Karen Ritter, Ronan Nelson, Kaitlin McCabe, Kyle Phillips, Rocky Brown and Declan Yeats, respectively.