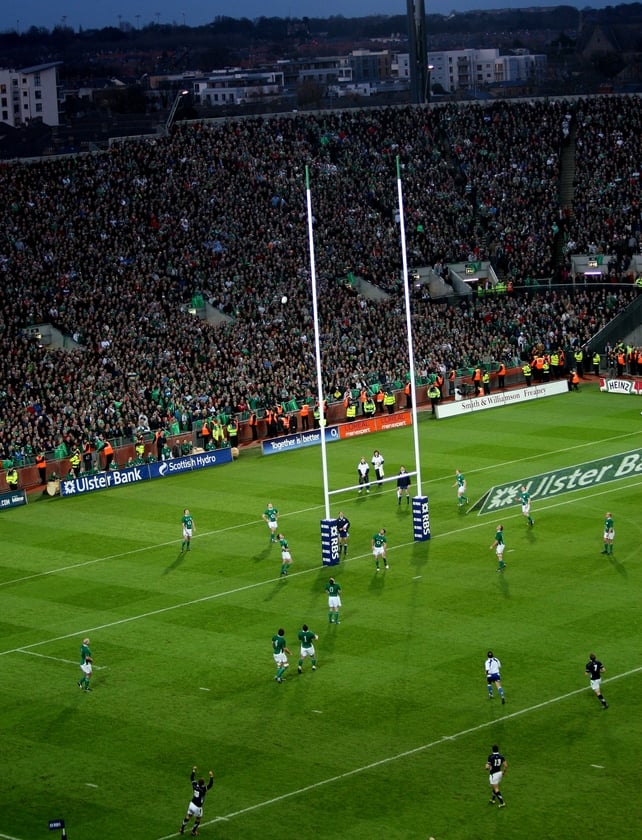 SAN DIEGO, CA – Tomorrow's "super Saturday" fixtures between Wales and Italy, Ireland and Scotland, and France and England will draw to a close yet another edition of the RBS 6 Nations Championship. England, crowned champions following France's defeat to the Scots last weekend, travel to Paris seeking their first grand slam since 2003. It won't be easy for the English, though, facing their historic rivals who are looking for a top three finish in their first Championship under new head coach Guy Noves. Outside of the clash in Paris, the Irish play host to Scotland in Dublin in what should be a great match between two sides looking to exit the competition on a high. Both sides are coming off wins last weekend and both are vying for a top three finish. Lastly, Wales will play host to the slumping Italians in a match that should be filled with plenty of Welsh scores. Get prepared for tomorrow's action with our analytical coverage and see how our Experts chose in the Picks Panel as RugbyWrapUp tackles Round 5 of the 2016 RBS 6 Nations Championship…
[supsystic-tables id='48']
How they picked: In the weekend's first match the entire panel unanimously sided with the Welsh, an easy decision considering that Italy are quite bad. In the weekend's second match, four of the panelists sided with the Irish, Mr. Blaber and Mr. Frechette being the two nay-Sayers. In the weekend's final match the panel was evenly split between French and English support. It is a three way tie for first place between Mr Nelson, Mr Wicklow Barberie, and Mr Harrington, all with 7–5 records. All three have picked Wales and Ireland to win the weekend's first two matches, but Mr Nelson's pick for the French to beat the English differs from Mr Harrington and Mr WB, a decision that will make all break who wins the 2016 RBS 6 Nations Picks Panel.
Wales vs. Italy
Principality Stadium, Cardiff
As Irish news outlet RTÉ so delicately put in their analysis of Italy's performance last weekend, "There was plenty of that talk ahead of the Italy match but so poor were the Azzurri that if Ireland were to take into the pitch in clown suits it wouldn't of made a difference." Don't expect anything different folks.
Whether it's a pileup of injuries, their usual slump in the last two games of the 6 Nations, poor guidance under soon-to-be not head coach Jacques Brunel, or just all-around bad team performances (bar Sergio Parisse, he's been their soul outstanding player), the Italians have struggled to find their footing in any sort of viable game plan.
In an effort to try and finish off his coaching tenure with a flourish, Brunel has made five changes to the team that lost Ireland last weekend, most notably with the return of Martin Castrogiovanni. Tommaso Allan makes his first start in this year's Championship, Valerio Bernabo and Quintin Geldenhuys form a completely new back row partnership, and Andrea Pratichetti comes in for the injured Michele Campangaro in the centre.
Brunel remarked on how his side could slow down the Welsh attack saying, "Wales, similarly to Ireland, are a team that has the ability to play with great effectiveness. We will not give them time and space as in Dublin, it will be crucial to slow their game at the breakdown…"
As for Warren Gatland's side, a win will guarantee second place no matter the outcome of the day's other fixtures. The head coach will make three changes to the side that lost in London last weekend, with Dan Lydiate taking the reins in place of injured captain Sam Warburton, Rhys Webb making his first start at scrum accents ankle surgery, and Bradley Davies replacing the injured Alun Wyn Jones.
The Welsh were no less than disappointing for 50 minutes last week before their late comeback against the English, and Gatland will use this opportunity against the Italians to spring for their way into the summer test series, "To finish second would be a reasonable achievement and hopefully a stepping stone into New Zealand this summer."
Ireland vs. Scotland
Aviva Stadium, Dublin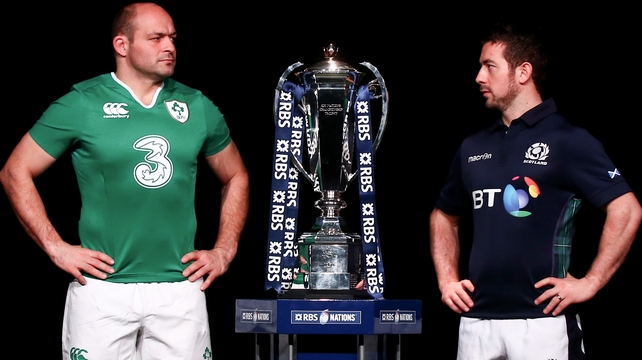 A week after huge win against the French in Edinburgh, Scotland travels to Dublin to take on an Irish side that has been boosted a huge win over the Italians last weekend. With Wales almost certainly in line for a second place finish, both Ireland and Scotland will be fighting for a third-place finish depending on the France England results.
In my opinion, Scotland have by far been the most interesting team to watch in this Championship. Their progression under head coach Vern Cotter has been intriguing to watch since their close encounter with Wales and they have managed to cut down on handling errors that plagued them in previous matches. Last weekend's win over France showed a resounding believe in Cotter's System of play and they only seem to be getting better from here…
…which is exactly why Ireland can't look past the Scottish challenge. It's an interesting period for the reigning champions who have struggled with injuries, health, and an overall lack of identity.
Head coach Joe Schmidt seemed more at ease this week during press conferences after his side's nine try win over Italy, explaining how the squad's shift in confidence comes at a perfect time ahead of a huge battle against the Scottish. Schmidt has made only one change to his side, Tommy O'Donnell coming in for Josh van der Flier at flanker to many fans astonishment. It will be interesting to see whether O'Donnell's inclusion into the squad adds anything to the Irish pack tomorrow.
As for the Scottish, Finn Russell has been ruled out because of head injury and Duncan Weir steps in as his replacement. Jonny Gray has also been ruled out with injury so Tim Swinson steps in for him at #5. The Scots the final placement comes in the form of Ryan Wilson, replacing Josh Strauss at #8. The biggest part of the Scottish game plan will be the implementation of Stuart Hogg into open play. If the Scottish backs can play as well as they did last weekend, it will certainly pose a huge challenge to the Irish midfield.
France vs. England
Stade de France, Paris
After last year's 55–35 classic in favour of the English at Twickenham, the two sides will meet again a year later to determine whether or not England will win their first grand slam since 2003. Many English headlines read "We are just 80 minutes away", but with an opponent like France at Paris, it was never going to be that easy.
The English are coming off the backs of a rousing victory over the Welsh last weekend to win the overall championship, and will no doubt be bursting with confidence under the new regime of Eddie Jones. The English haven't shown anything overly special in this tournament, but they have taken their opportunities and converted them into victories both large and narrow.
The only changes to Eddie Jones' side heading into Paris are the inclusion of Mako Vunipola in for Joe Marler, who goes on the bench, and the inclusion of scrum-half Danny Care. Marler was surprisingly not cited by the 6 Nations Disciplinary Committee for his "gypsy boy" comment aimed at wards Wales' Samson Lee last weekend.
Guy Noves has made two changes to his French side following defeat in Edinburgh last weekend, Bernard le Roux replacing Yacouba Camara at open side flanker Loann Gujon comes in at #8 to replace Wenceslas Lauret. Noves said earlier this week that "We need to bring the freshness in the team for Saturday's game. I believe in our team. I am sure that our team can take on great challenges and that we can compete with the power of the English."
In response, Eddie Jones replied, "We are the better team and we have to believe we are the better team. If you going to grandslam games thinking you're not the better team, you are going to get beaten."
Stay tuned for some fireworks Saturday night.