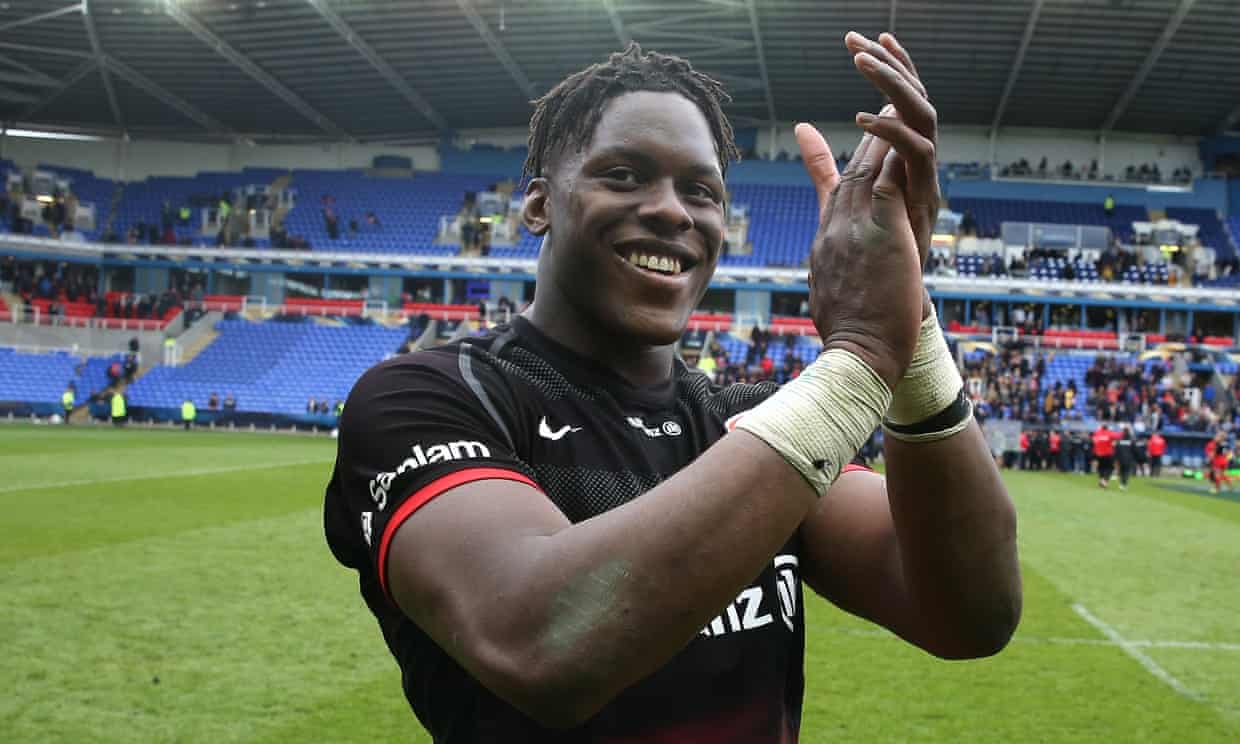 WESTWOOD, CA – And then there were two. After an awesome weekend of European Rugby Champions Cup semifinals, England's Saracens and France's Racing 92 overcame Wasps and Leicester, respectively, to earn themselves spots in Europe's showpiece event. Neither side has ever won Europe's top prize, so history is bound to be made when the two descend on Lyon in a little less than three weeks time. But, before either side could look ahead to the grand final, they both had to focus their efforts on their semi-final opponents. Relive yet another weekend of thrilling European rugby and see how our Expert Panelists faired as RugbyWrapUp reviews the European Rugby Champions Cup semifinals…
Expert Panel Picks:
[supsystic-tables id='68']
Current Standings:
1)      Mr. Harrington: With a record of 48-18, A perfect set of picks last weekend and only one game left in this Champions Cup, Mr. Harrington has won the Expert Picks Panel. Congratulations sir!
2)      Mr. Frechette: With a record of 46-20 and a perfect set of picks last weekend, Mr. Frechette hold second place. Mr. Blaber actually holds the same record of 46-20, but loses out on second-place because of a worse Pick of the Week (PoW) record.
3)      Mr. Blaber: Resigned to third place because of his 5-3 PoW record compared to Mr. Frechette's 6-2 PoW record, Mr. Blaber still has the opportunity to climb into second place. His chances maybe thin but it's still possible.
4)      Mr. JWB: Although successful with his picks for much of the European Rugby Champions Cup season, a late slump pushed JWB out of contention for the championship. At this point, the best Mr. WB can hope for is to tie for second place.
5)      Mr. Nelson: My first season on the European Rugby Champions Cup Expert Panel didn't go as well as envisioned, especially after getting all of last weekend's picks wrong. But hey, I wrapped up fifth Place, that's something to be happy about right?
6)      Mr. Yeats: Unfortunately, Mr. Yeats will finish off this season on the bottom of the expert panel table. Sorry mate, the Irish teams let us all down this European season, especially your shot at the expert panel championship!
Saracens 24 v 17 Wasps
Madejski Stadium, Reading
Attendance: 16,820 of a possible 24,161
Saracens powered their way through European Rugby Champions Cup opponents, Wasps, last Saturday and in a convincing victory that gives England hope of winning the country's first European final since 2007. Wasps made the scoreline look closer than the game suggested thanks to a late try, but Saracens were dominant throughout the match.
Wasps had stunned Saracens earlier in the Aviva Premiership season by starting the game fast and strong, and looked to start the semi-final off in the same manner.
Right from the very first kickoff Wasps looked deadly. Charles Piutau fed the ball wide to Christian Wade who found himself in acres of space, plenty enough room for a man who is used to tiptoeing down the touchline. He eventually found scrum-half Dan Robson who subsequently turned his opposite number Richard Wigglesworth inside out for a try in the first minute. Gopperth tacked on the conversion and wasps lead 7-0.
From there, though, Wasps seemed to sit back and stop the thunderous attack. It was quite a strange turn of events.
Saracens fly half Owen Farrell began delivering the ball to teammates all across the field, expertly picking out weaknesses in the Wasps defence and sending a runner through. The role reversal seem to work almost instantaneously for Saracens as it appeared as though winger Chris Ashton had scored the Londoners first try. However, the TMO intervened and the try was reversed because Ashton illegally impeded the Wasp winger while they chased for the ball.
Mark McCall's men had to wait a while before their breakthrough, though, as they scored their first try after a scoreless 28 minutes.
After piling on the pressure and forcing Wasps into their 22, Sarries flanker Michael Rhodes charge down a Gopperth clearance, pounced on the ball, and ran in his side's first try of the match. Farrell missed the conversion and Wasps remained ahead, albeit at 7-5.
The pressure from Saracens continued throughout the rest of the half, but the Wasps defence remained solid and on the stroke of half-time the Wasps were penalised and the ensuing successful kick from Farrell, his first successful kick of the day, gave Saracens a lead at the break 8-7.
The second half proved to be much, much more fruitful for the men in black and red. Mako Vunipola gave Owen Farrell another shot at goal after perfectly poaching a ruck in the 42nd minute before Will Fraser and Maro Itoje poached another rock in the 46th minute to give Farrell his second shot at goal of the half. The English International fly half capitalised on both opportunities and gave his team a 14-7 lead with half an hour left.
From this point the lead would not be vanquished as Farrell, despite seeing yellow for a high tackle on Dan Robson, kicked another penalty before Saracens earned A 72nd minute penalty try from a thundering maul.
Ashley Johnson brought Wasps' fans hope after a 75th minute converted try but the match within seven points, but yet another knock on altered the ensuing attacking and ultimately denied the comeback.
Racing 92 19 v 16 Leicester
The City Ground, Nottinghamshire
Attendance: 22,148 of a possible 30,576
In the second semifinal of the weekend, Racing 92 secured their first ever spot in a European championship final, a massive feat considering that they were playing in the French D2 less than eight years ago.
Maxime Machenaud and Dan Carter were the absolute standouts of the match, scoring five and nine points, respectively, and commanding the game with intensive precision.
Leicester were riding a massive wave confidence after smashing the Parisian side Stade Francais in a six try rout at Welford Road only two weeks prior. Boy did they have a rude awakening.
Racing were on the board in less than two minutes. Winger Joe Rokocoko made a flying break down the left touchline before being tackled Sean shy of the try line. Machenaud, utilising his size and speed, sniped his way through the Leicester defence for his first try in for European matches. Carter added the extras and the visitors were ahead 7-0.
Racing did their best to frustrate the highflying Leicester attack and they were largely successful for most of the first half an hour.
The only way Leicester were able to get on the board was through the kicking boots. Tigers' fly half Freddie Burns responded to a 20th minute Carter penalty with a penalty of his own and replacement Tigers fly half Owen Williams even managed to draw the deficit to 4 before Carter finished out the half with a penalty to bring the score to 13-6 at the break.
Leicester had a brilliant start to the second half as their forward pack drew a penalty from a scrum after only three minutes. Williams converted for a score but was negated seven minutes later as Carter converted a penalty of his own.
And thus was Leicester's downfall. Overall, they had 14 handling errors in the match that mostly came during parts of the match when Leicester looked as though they could finally converted scoring chance. When they did manage to score they felt to ill discipline and gave away a penalty is that Dan Carter easily converted.
The Tigers game away a 73rd minute penalty of which Racing centre Johannes Goosen converted, putting the win well out of reach for Leicester. They managed a 79th minute converted try to draw the deficit to 3 points, but they unsuccessfully ran the ball from there own 22 and lost the match.
Racing 92 now will get an opportunity at revenge against a Saracen side that beat them in a quarterfinal in Paris last year.
This final will be an absolute cracker.
That is it for now. Feel free to comment below, look for and "Like" our Facebook Rugby Wrap Up Page and follow us on Twitter@: RugbyWrapUp, Junoir Blaber, James Harrington, Jamie Wall, Nick Hall, DJ Eberle, Jake Frechette, Scheenagh Harrington, Ronan Nelson, Kyle Phillips and Declan Yeats, respectively.