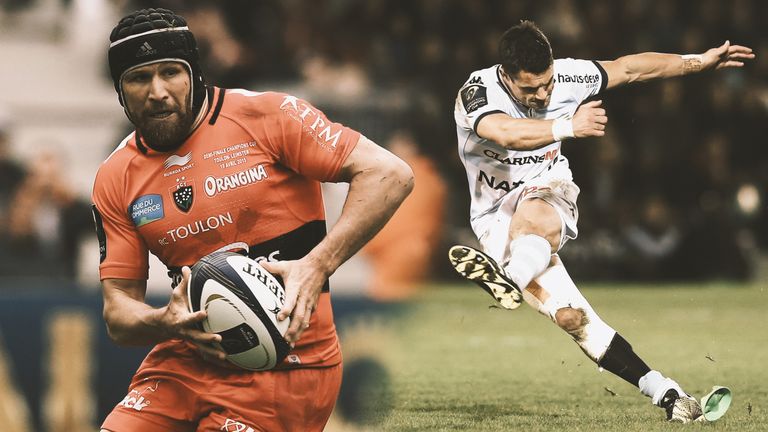 LOS ANGELES, USA – After weeks of sojourn from European competition rugby thanks to the 6 Nations and domestic competitions, the return of the European Rugby Champions Cup is finally upon us. The world's most exciting club competition returns for four matches this Saturday and Sunday as eight teams compete in the competition's quarterfinals, all striving for European glory. In all, five English and three French teams are still in the running for Europe's top prize, while for the first time since the 1997/1998 season an Irish team is not in the competition. For the first time in six years, three of the four quarterfinal matches will be played on English soil, the fourth on French soil thanks to an all Top 14 match between Racing 92 and Toulon. Check out how our Experts' picks among the eight remaining teams and preview each of this weekend's four quarterfinal match as RugbyWrapUp previews the 2015/2016 European Rugby Champions Cup quarterfinals:
Wasps vs. Exeter Chiefs
Ricoh Arena, Coventry
Kickoff Time: 10:15 AM EST
After what have so far been an absolutely remarkable domestic and European campaigns, the Exeter Chiefs stand to march into Coventry on Saturday with a full head of steam on their quest towards an European Rugby Champions Cup final birth. Of the five English teams in the competition, the Chiefs are the only ones making their top-flight knockout phase debut, but the southern English side are looking to make more history than they have already.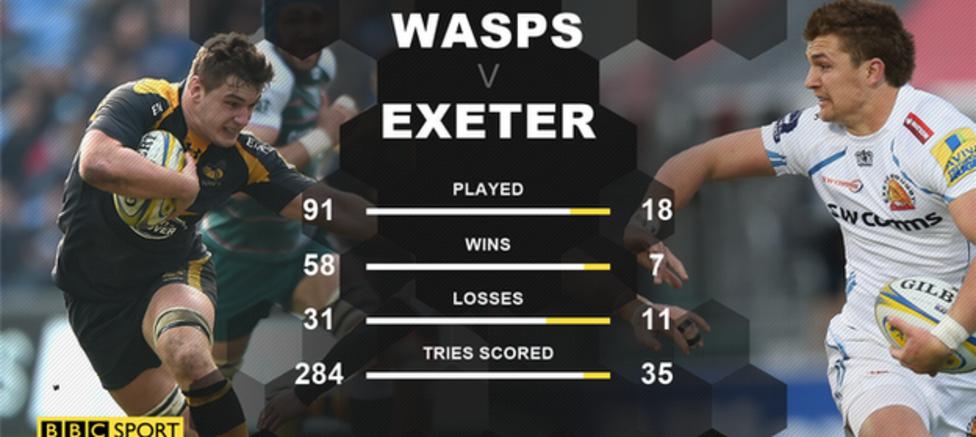 The last time the two sides met was in Aviva Premiership play at the Ricoh Arena, the Chiefs came away the decided victors in a 41–27 rout thanks for the absolutely sublime efforts of big #8 Thomas Waldrom.
The Chiefs, under the guidance of Rob Baxter, have been excellent in both domestic and European competition this season, currently lying second in the Aviva Premiership behind leaders Saracens. The most important factor for the Chiefs going into Saturday's game will be the performance of the big man and crowd-pleaser Tom Waldrom. Even with the likes of Jack Nowell, Gareth Steensen, Mitch Lees, and Julian Salvi, Waldrom has been the catalyst for good fortune for Exeter. He will be key for the Chiefs run to the semi-finals.
For the Wasps, head coach Dai Young seems to be savoring the chance to play in the first ever European quarterfinal at his side's new home in Coventry. Addressing the media mid-week, Young made it clear that he is proud of his team's success thus far.
"It has been a real squad effort to reach the last eight and we are proud to have come through such a tough pool to earn a home quarterfinal, but obviously don't want to end it here."
Amongst his starting 15, James Haskell makes his return to the side to captain the Wasps, while Dan Robson and Charles Piutau will make their return to the Wasps' backline after several weeks of injury. Overall, the Wasps just need to play to their own strengths. The last time they met the Chiefs they tried to play with too much ball in hand and outplayed themselves, forcing handling errors and penalties that, in the end, ruined their match. Jimmy Goperth at out half will have to manage his side around the pitch masterfully if they are to come away the victors.
One thing is for certain though, if the Wasps get into the same state of mind as they did when they rocked Toulon at the Ricoh late last year, it might be a long day for the Chiefs on the road.
Expert Panel's Picks: Everyone is expecting a Wasps victory except Frechette who is picking an Exeter upset.
Saracens vs. Northampton
Allianz Park, North London
Kickoff Time: 12:45 PM EST
In Saturday's second all English quarter-final, Aviva Premiership leaders Saracens play host to a limping Northampton Saints side looking to win what is predictably going to be a very physical battle. Although Northampton have tasted European glory once already (2000), both sides have more recently felt the bitter taste of European Rugby Champions Cup runners-up, Northampton in 2011 and Saracens in 2014.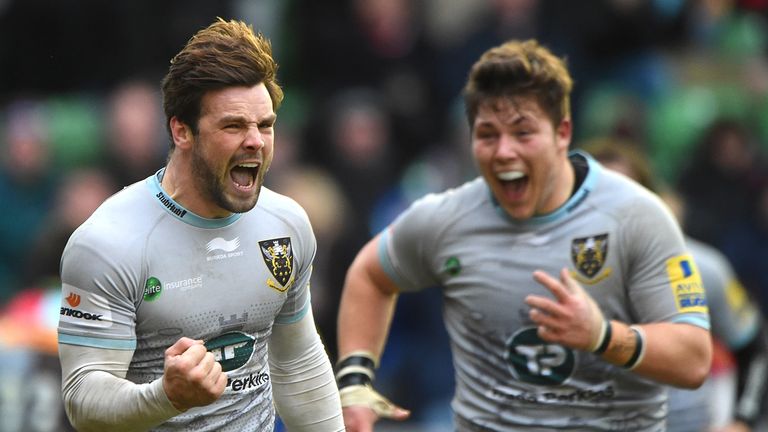 For the visitors Northampton, seven of their normal starting 15 players are injured including England captain Dylan Hartley. Hartley, having suffered a concussion in the last round of the 6 Nations, failed to make the match day 23 due to health concerns. Scrum-half Lee Dickson, winger George north, flanker Tom Wood, #8 Sam Dickinson, and prop Kieron Brooks also failed to make the traveling squad due to injury.
To pile on more bad news, Saracens have two extra days of rest and have won 20/25 games in all competitions this season, but I doubt the Saints will focus on their lack of depth on Saturday. Jim Mallinder's men came out of a difficult group with Racing, Glasgow, and Scarlets, and know very well that anything can happen in European competition (cough cough 2011 final).
Ben Foden captains the Saints once again and will line up behind the Pisi bros, Luther Burell, Jamie Elliott, and Steve Mylar in what is a very strong backline.
As for Saracens, the North London side are hoping that England international Maro Itoje will be back for Saturday's match after being sidelined with an injury. He has tentatively been placed in the back row alongside George Kruis but will be replaced by Alistair Hargreaves if he is not fit.
Head coach Mark McCall has chosen an impressive squad ahead of the time with Northampton, with centre Brad Barritt captaining the side. The Vunipola bros once again start and round out what is an immensely powerful forward pack.
Unfortunately for Northampton it's definitely advantage Saracens, but anything can happen on any given day in European rugby.
Expert Panel's Picks: Everyone is expecting a Saracens victory except Yeats who is picking Northampton because they have green in their jersey.
Leicester vs. Stade Francais
Welford Road, Leicester
Kickoff time: 8:45 AM EST
Welsh referee Nigel Owens will take charge of the quarter-final clash between the Leicester Tigers and French visitors Stade Francais (SF) on Sunday in a pool stage rematch at Welford Road. Finishing first and second in pool 4, the two sides have already split the two previous ties in this year's competition, making Sunday's match that much more mouthwatering.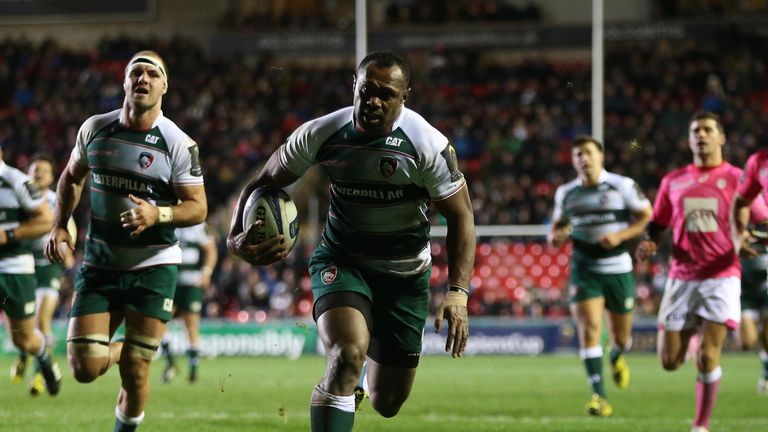 For head coach Richard Cockerill and his Leicester Tigers side, they have managed to make their way into the top four in the Aviva Premiership thanks to outstanding victories against Saracens and Exeter, even despite losses to both Sale and Wasps.
In terms of personnel, the Tigers have been fortunately consistent thanks to a lack of injuries. Ben Youngs and Freddie Burns will take control of the in and out half pairing while Kiwi phenom Brendan O'Connor will lineup beside Lachlan McCaffrey in yet another strong back row pairing for the Tigers. The only place of concern for the Tigers could come from the hooker position and replacement Harry Thacker who has shown both strong and wobbly performance is the past few weeks.
For the Tigers, it is crucial that they capitalize on their opportunities. When they encountered SF in their last match in Paris, Leicester were lacking any and all clinical precision, coughing up turnovers in crucial areas of the field and at times when they should have capitalized and scored. Also, stopping SF in open play and firming up the midfield defense will be crucial to Leicester's success. As for head coach Gonzalo Quesada, his SF side are well off from defending their French domestic title after having only won 7 of 20 matches so far this season. Their disappointing domestic campaign contrasted with their European ambitions as the Parisian outfit have done relatively well in the European Rugby Champions Cup.
Several new faces have made their way into the SF squad since their last encounter with Leicester in December, notably Geoffrey Doumayrou in at center at alongside Jonathan Danty. With open phase play so important to the Parisian side, this center pairing must be spot-on on Sunday and cannot afford to succumb to a lackluster performance with hard hitters Peter Betham and Manu Tuilagi playing in the centers opposite them.
No matter what, they will most certainly be fireworks at Welford Road on Sunday.
Expert Panel's Picks: Nelson and Frechette have leaned toward Leicester with the rest of the pack choosing the men in Pink.
Racing 92 vs. Toulon
Stade Yves-du-Manoir, Paris
Kickoff time: 12:15 PM EST
In the only quarter final being played on French soil this weekend, French powerhouses Racing and Toulon will butt heads not only for domestic bragging rights but also for the opportunity to bring yet another European trophy to French soil. Toulon are seeking a four-peat of European victories while Racing are looking to secure their first European championship in their history.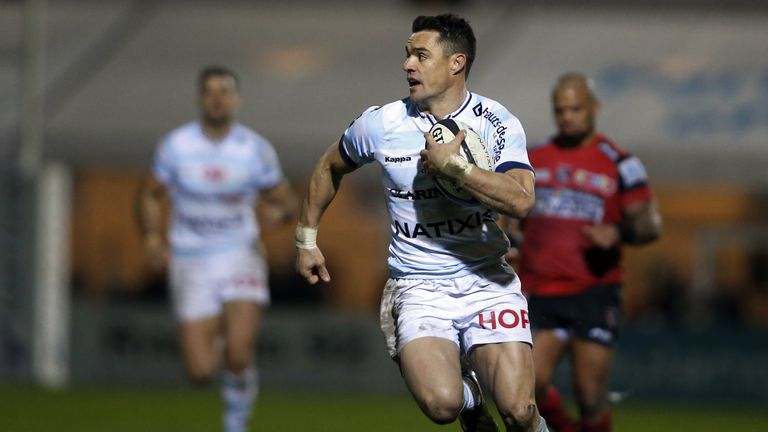 Racing comes into this quarter-final having knocked off Northampton, Glasgow, and Scarlets in stylish fashion during the group stages. The Parisian side has been steadily growing in both experience and work rate, largely fuelled by the sublime play of new out half Dan Carter. The Kiwi has been excellent sense signing on at the beginning of the season, and has largely contributed to Racing's 87% success at goalkicking in this campaign.
Racing's attacking prowess is extremely formidable, especially considering that the starting 15 named for Sunday's match is nearly identical to the side that was used in December's pool stage games, a blatant sign of the squad's cohesiveness.
Coming up against southern rivals Toulon, Racing need to be absolutely dominant in terms of possession. With ball in hand, the blue-and-white are unstoppable, with the pace of the backline and work rate of the forward pack forming a perfect union. By keeping possession, Racing will be able to control the match's tempo and dictate the flow of the game, a tactic that Toulon absolutely loathe.
As for Toulon, the three-time reigning champions have not looked nearly as unbreakable as they have in previous editions of the competition. In the pool stages they were ripped to shreds away at Wasps and almost succumbed to losses against both Bath and Wasps at home.
For the visitors, The key to success will be playing as a unit. At several times and both European and domestic competitions this year and last, Toulon have looked as though they are a team of individual stars who don't play as well together as they do individually. The wealth of potential on this team is fantastic, from Juan Smith to Matt Giteau to Ma'a Nonu to Delon Armitage, and the list goes on.
For the first time in nearly 4 years Toulon travel into a quarterfinal as the "underdogs," a feeling that has left many wondering whether or not the status quo that is developed over the last three years is finally eroding.
Expert Panel's Picks: This time it is Yeats and JWB that rebuffing the pack and going with the underdogs, Toulon.
Expert Panel: I have talked about their pick but here is a look at the overall table including their picks of the week.

[supsystic-tables id='52']
That is it for now. Feel free to comment below, look for and "Like" our Facebook Rugby Wrap Up Page and follow us on Twitter@: RugbyWrapUp, Junoir Blaber, James Harrington, Jamie Wall, Nick Hall, DJ Eberle, Jake Frechette, Scheenagh Harrington, Ronan Nelson, Kyle Phillips and Declan Yeats, respectively.