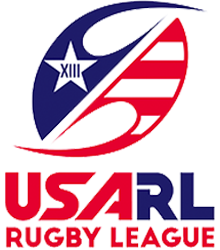 TAMPA, FL – The Atlanta Rhinos and Jacksonville Axemen both won on the road Saturday.  Atlanta traveled to Tampa and defeated the Mayhem 42-24, and the Axemen took a road trip to DeLand to clinch the win 42-10 over the Central Florida Warriors.
Tampa keeps it close, then Atlanta pulls away
The Tampa Mayhem kept the game against the Atlanta Rhinos close through halftime, with the Rhinos only six points ahead of the Mayhem.  However, Atlanta took control during the second half, and won the game 42-24.
With Atlanta's win, the Rhinos, now 2-0-0, are now the only undefeated club in the Southern Conference (SC) of the USA Rugby League (USARL).  Tampa falls to 1-1-0.  Atlanta will travel to DeLand to take on the Central Florida Warriors this coming Saturday, 17 June 2017.  Tampa will take a trip to Jacksonville for a matchup against the Axemen.
Jacksonville defeats Central Florida to clinch its first win
The Jacksonville Axemen defeated the Central Florida Warriors Saturday to earn its first win of the 2017 USARL season.  While the halftime score was fairly close (16-6), the Axemen pulled away from the Warriors to win the game 42-10.
The Axemen's win improves Jacksonville to 1-1-0 for 2017, while the Warriors drop to 0-2-0.  This Saturday, 17 June 2017, Jacksonville will host Tampa, and Central Florida will have a home game against Atlanta.
---
Check out Rugby Wrap Up for further Southern Conference USARL Coverage
For further coverage of the USARL Southern League and all rugby coverage, please look for and "Like" our Facebook Rugby Wrap Up Page and follow us on Twitter@: @RugbyWrapUp,  @Brian C Cole, @Matt_McCarthy00, @Junoir Blaber, @JWB_RWU, @Luke Bienstock, @Ronan Nelson, @MichaelHalsey24, @MeetTheMatts and @Declan Yeats.
To learn more about the teams:
-Atlanta Rhinos: please visit the club's website, Facebook page, and Twitter feed.
–Jacksonville Axemen: please check out the team's website, Facebook page, and Twitter feed.
–Central Florida Warriors: please visit the club's website, Facebook page, and Twitter feed.
–Tampa Mayhem, please check out the team's website, Facebook page, and Twitter feed.
USARL links: Website, Facebook, Twitter…