RWU HQ — Does the name Paul Lasike sound familiar? 
Lasike is a dual-sport athlete from Brigham Young University that was featured a few weeks ago here at RWU. Lasike plays both football and rugby at BYU.
And long be hold, Lasike isn't the only rugger to play both rugby and football for the Cougars these days. Sophomore Joshua Whippy is also double-dipping at the Mountain West Conference school.
Whippy, a Fiji native, is a running back on the Cougars football team and center/full back on the rugby team. With some injuries and suspensions to the Cougar backfield, Whippy could play a big role on the BYU offense this season.
According to his football coach, Bronco Mendenhall, the rugger is having a good training camp.
"We were thin at running back," Mendenhall told the Salt Lake Tribune. "I had seen him in the offseason program. He had expressed an interest, so he came out and he is big and he is fast. Still learning just how to get in the stance. So he has had four practices total. But Paul has helped him a lot. Too early to say, but he is a great young man. Really humble. One of the things with the rugby players that I like is they are so hard working and so humble and appreciative."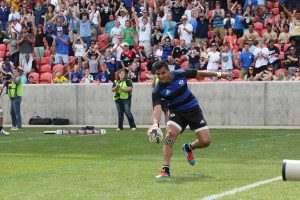 One benefit for Whippy, is that he is playing with Lasike, a rugger who is very comfortable playing two college sports. Playing with Lasike, a guy who is in the same situation, will help the young Whippy adjust to playing two sports at an extremely high level of competation.
With a player that is as athletic as Whippy, he should succeed as a running back at BYU. Not only will playing football in the fall, obvouisly help him as a football player, but it will have benefits on the rugby pitch as well.
Not much compares to Division I football conditioning-wise, so playing with the Cougars should put Whippy in the best shape of his life by the time rugby season rolls around.