International rugby is about combat, humility. But, above all, it's a collective sport. We don't need starlets. In rugby, the team is the star and we need champions. Yesterday, I didn't see any champions – or not many – France coach Philippe Saint-Andre
CASTRES, FRANCE – France coach Philippe Saint-Andre left nothing to the rugby media's collective imagination in his post-mortem of Les Bleus' miserable performance against Wales in Paris in the third round of the 2015 Six Nations.
In a stark and brutal analysis of his side's chronic failings in this World Cup year, he told a post-match press conference after Wales won 20-13 at Stade de France: "I only want players who are ready to go to the end of the world. If anyone thinks that international rugby is too difficult, then they have my telephone number. They can call me and I'll take someone else. I'll even take a 20-year-old lad who's never played in the Top 14 before.
"I've covered for them and supported my players for three years. At some stage you need to know how to win games at the highest level.
"The French jersey should not only be something you're proud of, but also something that enables you to surpass yourself. You need to be a gladiator."
Asked if some players' international futures are on the line, six months ahead of the World Cup, Saint-Andre replied with an emphatic: "Yes."
That sounds like the desperate howl of a badly wounded and threatened lesser-spotted French rugby coach.
Knives are being sharpened for Saint-Andre in France, with a some commentators openly speculating whether it's better to suffer the slings and arrows of his outrageous selections, or to give him up as a bad job, hand the job to someone else and pray that the World Cup won't be as awful as it's threatening to be.
A few names have even been bandied about – but it would surely be a brave-to-the-point-of-foolhardy coach who would would take charge of France's downhearted team now.
Besides, Saint-Andre ruled out standing down. "I've never abandoned ship, whether as a player, as a captain or as a manager," he said.
"I've been given a role – to prepare this team for the World Cup. I'll fight every day to do that."
This latest defeat, this Six Nations, this past three years of French disappointment – in which Saint-Andre has led Les Bleus into four of the northern hemisphere's premier international tournaments and has so far finished no higher than fourth – has all been preparation, then.
Despite Saint-Andre's insistance that it's all World Cup-related, what the past three years of French international rugby has been for is anyone's guess – unless the entire rugby world has fallen for a three-year long-con of such audacious complexity and fiendish cunning that it would confuse the brightest minds on the planet.
Fifteen halfback pairings in 35 international matches is dangerously likely to become 16 in 36, though not because of a near-criminal performance from Camille Lopez – who missed two relatively easy penalties, fired what would have been a try-scoring pass to Yoann Huget forward, and was painfully predictable at the restart.
But the reason for yet another change at halfback is enforced. Morgan Parra is set to miss 10 crucial international and Top 14 season-ending weeks with a ruptured ligament in his right leg. It is a shame, as he had marshalled the forwards with rather more devil than the previous owner of France's number 9 shirt, Rory Kockott.
With Lopez a doubt for the match against Italy in a fortnight – which would mean that no fly-half under Saint-Andre has managed to start seven consecutive matches – Saint-Andre could turn to Stade Francais' Jules Plisson, Grenoble's Jonathan Wisniewski, Bordeaux's Pierre Barnard to team up with Saturday's replacement at scrum-half Sebastien Tillous-Borde… or maybe even Kockott.
Once upon a time, beating France – especially in Paris – required something more than a little out of the ordinary. Now, getting the ordinary right seems to be enough.
Wales did nothing big or clever. They just did things right. They tackled hard. They passed accurately. They got the set-pieces right. After that, it was nothing more than waiting for the French to make a mistake, which they did regularly – and in all the wrong places.
They ran the ball from deep from the outset, but stray passes, sloppy handling or a near-complete lack of cohesion cost them every single time.
While Wales's own French expats Jamie Roberts and Jonathan Davies made hay in midfield, Alun Wyn Jones hammered into every ruck and left his mark on every blade of grass. The only concern for Warren Gatland today is the fitness of captain Sam Warburton, who left the field 11 minutes from time with a knee injury, but by then it was job done for Wales.
Other than Parra, bright points were few and far between for France. Huget won his duel on the wing with Liam Williams , while loosehead prop Eddy Ben Arous worked his heart out both at the scrum and in the loose, and fullback Brice Dulin had done more than enough by the time he scored France's second try of the 2015 Six Nations – 13 minutes from time – to demonstrate what Les Bleus had missed in the opening two matches.
But the Wesley Fofana-Remi Lamerat experiment in midfield – another area where Saint-Andre cannot resist messing around – lasted only 17 minutes, before the barnstorming young Castres centre, a rumoured target for Racing Metro, left the field with a hamstring injury that looks set to keep him out of the rest of the Six Nations.
He was replaced, with demoralising predictability, by Mathieu Bastareaud. In fairness to Toulon's blunt instrument, his slow-motion skills in midfield are badly underused by Les Bleus. It's the wrong job for the man.
By the time Dulin had squeezed over in the corner after leaping salmon-high to catch a dreadful pass as France whipped the ball out wide, it was already too late. Seven minutes earlier Dan Biggar had scored his first international try, latching on to a sleight-of-hand pass from Dan Lydiate, and having just enough room to dart around the despairing Dulin.
One final penalty from the metronomic Leigh Halfpenny – who scored 15 points – eased any nerves that France might stage an unlikely comeback.
It's no wonder that the French, in their final appearance of the Six Nations in front of 80,000 long-suffering fans in Paris, were greeted with jeers and whistles as they completed a post-match lap of dishonour at the end.
Their fans must surely now be paying the not inconsiderable entrance fee to Stade de France more in fast-fading hope than expectation.
Earlier, Scotland paid a high price of their own for a case of unrealistic overconfidence against Italy in Edinburgh, prompting head coach Vern Cotter to admit he may not be getting his message across as he accepted responsibility for his side's 19-22 defeat.
Scotland, with a trip to Twickenham in their immediate future, are now red-hot favourites to win the wooden spoon for the fourth time in 11 years.
The truth is, Italy deserved their first win of 2015, and only their second away victory in the Six Nations in 15 years.
Not that it looked like they would head back to Rome with anything when their oversized and overrated journeyman fly-half Kelly Haimona telegraphed a pass to Sergio Parisse. Mark Bennett intercepted and raced away to score.
The try made it 10-0, and fly-half Peter Horne – in for the suspended Finn Russell looked to be having a ball. Little did he, or anyone else at Murrayfield, realise how terribly, horribly, wrong it would later go.
Italy's response was immediate. A straightforward lineout win was followed by a concerted surge to the line from the Azzurri's forwards. Lock Josh Furno emerged from a mass of bodies over the Scottish line with the ball. Try.
Even then, Scotland seemed in control. As the clock ticked down to halftime, they were 16-8 to the good. Then a moment of fortune dragged Italy back into the game. Haimona, not the most reliable of kickers, hit the upright with a last-ditch penalty.
Winger Giovanbattista Venditti was fastest to react. He somehow grabbed the ball from somewhere over his head and behind his back with one hand and squirmed his way through a wall of Scottish defenders and around the posts to touch down.
Not even Haimona could miss from in front of the posts. He converted to make it 16-15 at the break.
Murrayfield threatened to go wild when Stuart Hogg ran clear, certain surely to ease nerves and end the reistance of this frustrating Italian side – but Sean Lamont's off-load was clearly forward.
It meant that Italy were just four points in arrears after Scotland's Greig Laidlaw slotted a routine penalty 13 minutes from time.
And, when it mattered – at this time and in this place – the wile of Jacques Brunel found favour with the rugby gods.
He had decided earlier in the week that the game would be won and lost by the forwards. And Italy's pack hunted victory down. The maul powered forward. The scrum heaved with Azzurri might. But, crucially, they conceded a penalty. And all Horne had to do to end the game was find touch.
The gods intervened. He missed.
Two Scottish yellow cards later, handed out to debutants Ben Toolis and Hamish Watson, who were just doing their jobs in the most tense of arenas, and with the clock about to turn red, Scotland conceded a penalty try when they could only stop one last monstrous maul illegally.
Even the clearest of strategies must be implemented – and Ireland implemented coach Joe Schmidt's masterplan perfectly. Brilliantly.
The 19-9 win in Dublin meant they won their 10th match in a row, ended England's hopes of a Grand Slam, and – maybe – made a few southern hemisphere coaches sit up and take a little more notice.
It could also be icon Paul O'Connell's last match for Ireland in Dublin, if post-match hints, nudges and winks are to be believed.
England may, along with Wales, still officially be in the reckoning for the Six Nations title – but it is now almost impossible to see beyond the mighty fightin' Irish lifting their second championship in a row.
Just when England needed to make a real statement of intent ahead of the World Cup, the flaws in their composure and discipline were cruelly exposed – as 10 different players conceded 10 penalties.
In fact, the final margin of Ireland's victory would have been wider but for a too-late rally after Jonny Sexton left the field with hamstring trouble and was replaced by Ian Madigan.
The Irish followed a simple plan. Sexton and his halfback partner Conor Murray predictably launched bomb after bomb after bomb on England's back line.
Stuart Lancaster's charges will have been expecting the aerial onslaught, but expecting it and dealing with it are two different things. Of 19 garryowens the duo pumped high into the deceptively sunny yet bitterly cold Dublin sky, Ireland regained six.
The kicks were inch-perfect – and they were chased down by Tommy Bowe, Rob Kearney and Jared Payne, who have been doing this sort of thing since they were boys.
In comparison, England's Ben Youngs and George Ford fired exactly the same number into the upper atmosphere of the Aviva Stadium. England won the battle to regain none of them.
Ireland's howitzer-fuelled attacks were backed up by ferocious, smart defence. They had Ford in their sights all afternoon, and Sexton punished England with the boot when they were penalised.
At 9-3 at halftime, the game was still close enough to be classed as in the balance. But Ireland came out of the blocks quicker in the second period, and quickly snuffed out any chance of England repeating their Millennium Stadium comeback on the opening weekend of the Six Nations.
They bossed the start of each half, and that paved the way for their success. Robbie Henshaw's 52nd-minute try in the corner effectively ended the game as a contest.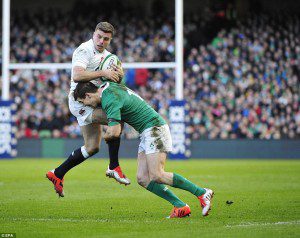 Unsurprisingly, it was a try made by the boot. Murray chipped expertly towards the corner and Henshaw rose above Alex Goode to grab the ball and touch down.
Sexton's touchline conversion extended the Irish advantage to 19-3 on one of those days when everything England tried was not quite good enough. They forwards could not gain any sort of control, despite the early, rubber-legged departure of a dazed Sean O'Brien and Sexton doled out a fly-half masterclass to Ford – including a brutal early tackle that led to a penalty.
Two late Ford penalties stopped the scoreline looking as bad as it could have been, while Jack Nowell could have had a late-late try to make things seem even better. But it was ruled out for a forward pass. In the end, it was just one of those days for England.
Feel free to add your thoughts below. And please look for and "Like" our Facebook Rugby Wrap Up Page and follow us on Twitter@: RugbyWrapUp, James Harrington, Scheenagh Harrington, Junoir Blaber, Nick Hall, Jamie Wall, DJ Eberle, Cody Kuxmann, Jake Frechette, Jaime Loyd, Karen Ritter and Declan Yeats, respectively.