Cody Kuxmann is a Referee at the London Society Of Rugby Football Union Referees, while studying International Relations at Richmond, The American International University in London. He lives in Richmond Upon Thames but hails from Green Bay, Wisconsin.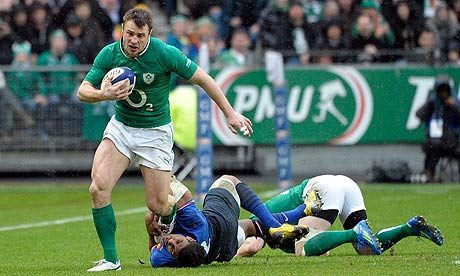 PARIS, FRANCE – From a standpoint of getting things right, Dave Pearson, the ref for Ireland v France, nailed it on the head.  If you recall, he's the ref that did not recommend a red card in the Ireland/Wales game.   He had a low penalty count, and managed the teams fairly well.  Not really much to say.
The only thing that did strike me as odd was his calling of scrummaging penalties.  It seemed that he allowed a lot within the Irish scrum.  France was very dominant and even when the Irish scrum broke up illegally, it was rarely penalized.  But we can't always have everything to the liking of the outside!  However, Pearson took that moment to breathe and think, and the French always had clean ball,  so he let it flow very nicely. No real complaint there.
Extending Television Match Official Powers.  I'd like to see it to be
included in the area of foul play.  How much better would it have been if the correct sanction had been applied to the Davies' tackle in Ireland vs Wales?  Wouldn't it be fairer and make for a better game if on-field review were allowed when needed?  The big question for me is how far it should be extended.
If it were to change, they should be able to look at yellow cards, and bring up the sanction.  However, they should not be able to lower the sanction unless it is for foul play.  If you can say that a different player committed an infraction, it will prevent innocent players from being sent to the Sin Bin.
Another area that it should be extended to is the ruling on foul play in the build-up to the try. In the Six Nations this would have come in handy in the Italy vs Ireland game.  The TMO should be able to rule as it was a try-affecting decision that was sent upstairs. Again, it would allow for a fairer game.
https://youtu.be/F9XAt-GNdjE
What are your thoughts on extending the powers of the TMO and last weekend's game?